not a lot of lycra as you could imagine; barely enough to show her...I think this might be the very first FEMALE AVIATOR PILOT TO BE POSTED...
SHES @natashanesemann
SHES CERTIFIED TO FLY • B787 •
• ATL •
• A320 •
FIRST PHOTO FROM 5 YEARS AGO "i'm officially an Airline Transport Pilot with my first jet type rating!
''
SHE GRADUATED FROM MIDDLE TENNESSEE STATE UNIV 5-6 YEARS AGO
you can say she got the bug very early in her life...dad was a pilot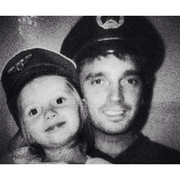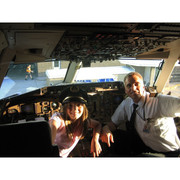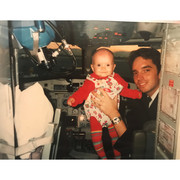 when you google her this came up where she graduated:
MTSU alum and International Society of Women Airline Pilots member Natasha Nesemann is the youngest pilot to fly the B787 at United Airlines. She was greeted by her family recently when she flew her airplane into her hometown of Amsterdam...

shes still in her 20's i figure...and she might even be single...bought that condo not too long ago


so if you are ever flying UNITED and hear a female's voice -that should always raise an eyebrow
and on a 787 dreamliner....VERY VERY LIKELY THAT THAT YOU NOW HAVE MET 'THIS IS YOUR CAPTAIN SPEAKING' AT LEAST IN PHOTOS


------------------------------------------------------------------------------------------------------
THERE ARE OTHERS HERES A HAWAIIAN GAL @lilo.lifestyle
''
| Airline Pilot
| International Travel Agent
| Dreaming of one day booking your travels, AND flying you there as well!''
''ATP CL-65 TYPE
. Literally can't believe the day is finally here !! I worked 2 1/2 years for this half sheet piece of paper ! Lol . For those that don't know my story … about 2 1/2 years ago I made a big life change & decided to start pilot training! Ended up making some big life changes because of it. Gave up my social life, put a halt on traveling, & moved down to ATL.
. Fast forward to today and it was all worth it. Literally put my blood, sweats and tears into this career and gave it everything I had. . Survived a few students that tried to kill me, survived a pandemic, and survived airline training lol . This has been the hardest yet most rewarding chapter of my life. So thankful to @atpflightschool for making this dream possible , and special thanks to all my instructors , peers, and support system along the way. Seriously could not have done it with out each and every one of you.
. So next time you board a Delta Connection flight , make sure your seatbelts are fastened
IOE Here I come !''

SO THIS ONE IS ONLY CERTIFIED AS A REGIONAL CARRIER FOR DELTA but wears much more leggings....

there will always be a twinkle in my eye with anything hawaiian....i celebrated my 12th, 13th and 14th birthdays there....almost 4 years there...